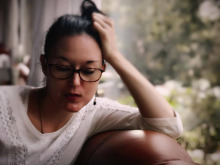 An anthropologist, Ingrid Le Gargasson is associated researcher at Center for Research in Ethnomusicology (CREM) of the Laboratory of Ethnology and Comparative Sociology (University of Paris Ouest Nanterre La Défense - CNRS). She defended her PhD thesis in social and historical anthropology at School for Advanced Studies in Social Sciences (EHESS, Paris) in December 2015 (title of the PhD: "The Masters' Making"). Her study aimed to understand the discursive, social and technical characteristics of the transmission of Hindustani music in North India, from the end of 19th century to nowadays.
Ingrid was particularly interested in the music genre of Khayāl. In fact, since 2003, she works regularly with singer Sudhanshu Sharma. She is currently in charge of programming and dissemination at Maison des Cultures du Monde and artistic director and co-founder of the Kalasetu organization, which promotes the South Asian performing arts in India and France.
Elle a obtenu une thèse en anthropologie sociale et historique à l'EHESS en décembre 2015 (« La fabrique des maîtres »). Cette étude vise à appréhender les caractéristiques discursives, sociales et techniques de la transmission de la musique hindoustanie en Inde du Nord, de la fin du 19e siècle jusqu'à nos jours. Elle s'est notamment intéressée au genre Khayāl. De fait, depuis 2003, Ingrid travaille régulièrement avec le chanteur Sudhanshu Sharma.
Elle est actuellement chargée de programmation et de diffusion au sein de la Maison des Cultures du Monde et directrice artistique et co‑fondatrice de l'association Kalasetu qui promeut les arts de la scène sud asiatiques en Inde et en France.
Analyse présentée par Ingrid Le Gargasson :